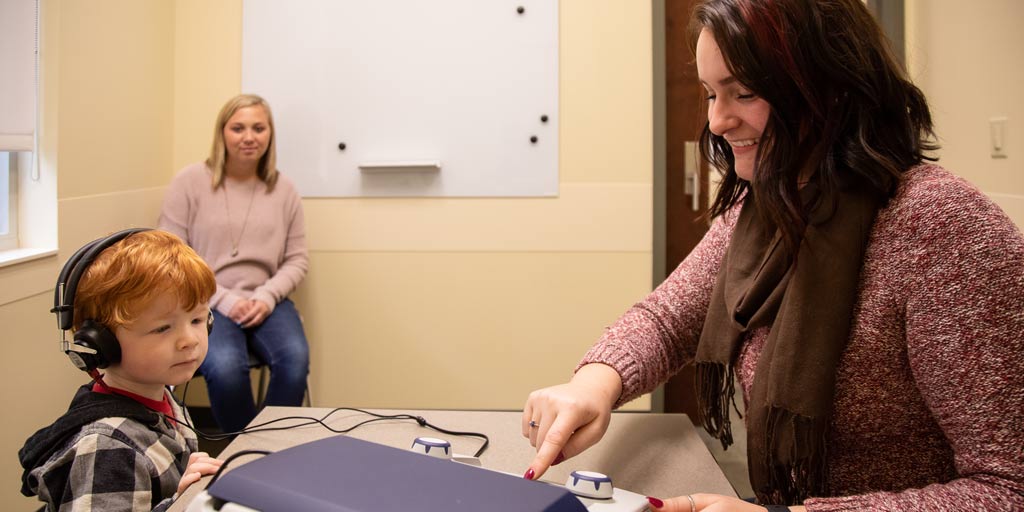 Program Sequence
Graduates of the MS program in speech-language pathology (SLP) at Indiana University South Bend will meet all certification standards to practice as a speech-language pathologist. It is designed to be completed in 5 semesters of study beginning in the fall session. Students will progress through 67 credit hours of coursework that will introduce them to culturally-linguistic diverse populations, interprofessional practice, and disorders of language, voice and resonance, speech production, feeding and swallowing, cognition, fluency, social communication and auditory habilitation/rehabilitation.
Clinical Skills
Students will participate in embedded modules within coursework that will include activities such as simulated life-like scenarios using high-fidelity manikins, standardized patients, or application of an assessment or intervention learned in the classroom.
Interprofessional Opportunities
Students will have opportunities to collaborate with students enrolled in majors that crossover to the field of speech-language pathology. In addition to the embedded interprofessional education anchors, students will work with faculty and peers in education, nursing, radiography, medicine and dental hygiene.
Clinical Practicum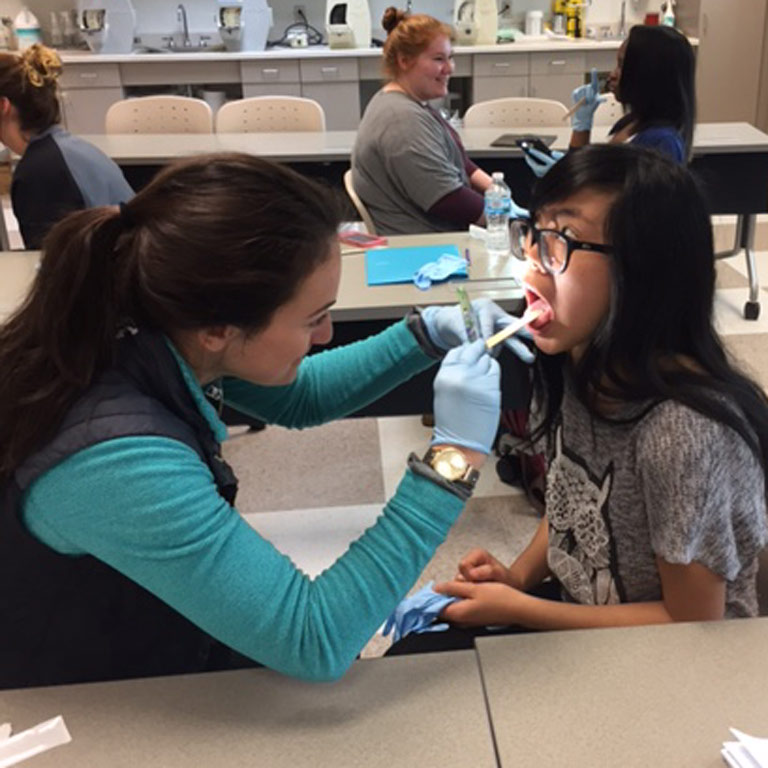 All students in the M.S. program will enroll in five semesters of clinical practicum to acquire the minimum of 375 clinical hours in direct contact with clients/patients. Practicum begins on-campus in diagnostic teams but quickly moves to community based placements where students will hone their clinical skills, critical thinking, and interprofessional education alongside speech-language pathologists in education and medical settings. Two of the practicum experiences are full-time fieldwork placements and occur during the summer and final spring semesters.
Capstone Project
Students are required to complete a Capstone project or a thesis option to graduate. More details can be found within the Student Program Handbook.
Comprehensive Exams
Students will be required to pass a comprehensive written examination after the third semester of coursework. Details regarding the content, format, and preparation of this examination are available in the Program Handbook.
Certificate of Clinical Competency
Upon completion of the clinical fellowship year, you are eligible for the Certificate of Clinical Competency and can obtain licensure in all 50 states in the U.S., including Washington D.C.
Statement of Non-discrimination
The Indiana University South Bend Master of Science in Speech-Language Pathology (IUSB MS-SLP) department and clinical program operate within IU's non-discrimination policy that prohibits discrimination on the basis of age, color, disability, ethnicity, sex, gender identity, gender expression, genetic information, marital status, national origin, race, religion, sexual orientation, or veteran status.