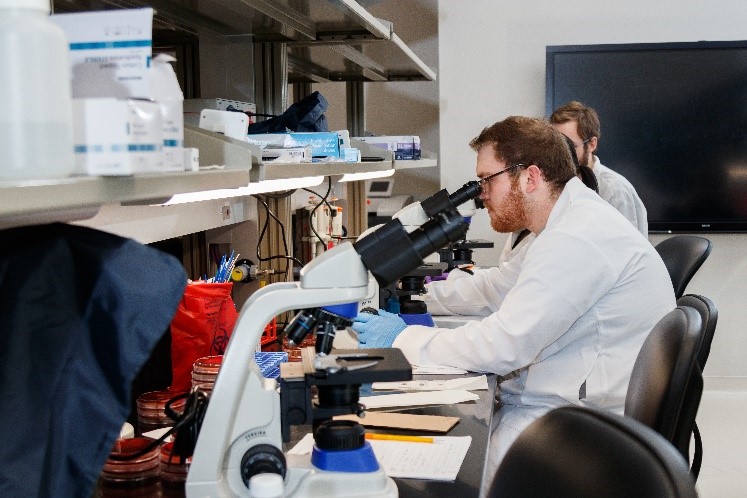 First degree students and returning students seeking entry into the Medical Laboratory Science (MLS) program will do so through the Traditional Track. Students are encouraged to enroll at IU South Bend under the pre-MLS degree designation. Students will meet with advising to determine required pre-requisite courses and develop a plan for course completion.
Upon completion of all pre-requisite courses, either through IU South Bend or as part of a previously attained degree, students may apply for acceptance into the professional phase of the MLS program. At this time, typically during the second (sophomore) or third (junior) academic year, students will officially apply to be accepted in the clinical track. Successful applicants will be recoded into the Medical Laboratory Science BS program and follow a 3 semester cohort model to degree completion.
After completion of didactic and laboratory courses at Vera Z. Dwyer Hall (see IU South Bend CLS BS campus bulletin page for details), students will complete a 16-week clinical rotation at a local affiliated clinical laboratory. During this time, students will rotate through all areas of a clinical laboratory and gain additional experience under the supervision of a practicing laboratory professional. 
Upon completion of the Bachelor of Science in Medical Laboratory Science, students will be eligible to take the national registry exam for Medical Laboratory Scientists (MLS) through the American Society for Clinical Pathology Board of Certification (ASCP-BOC). Nationally certified MLS are able to seek employment at a variety of local, regional, state, and national clinical diagnostic laboratories.
Programs and curriculum are subject to change. Please refer to the academic bulletin for current information regarding pre-requisite and program courses. The Advising Center in the Dwyer College of Health Sciences is also available to answer questions about the program and assist with application completion.